Dress to Impress: What to Wear to Change Your Luck During the Interview Process
May 15 2019 Posted by

Zing Professional

in Blog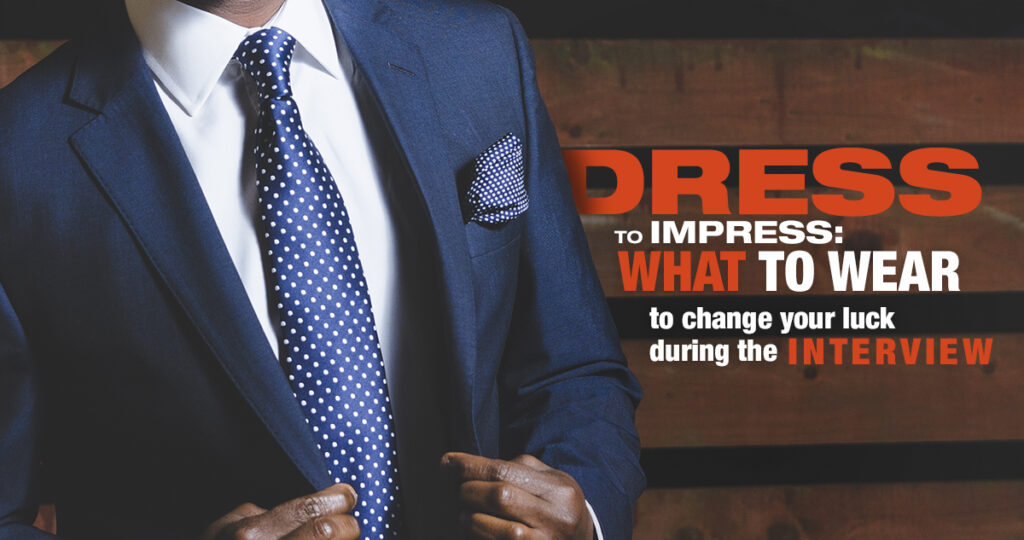 Landing the interview is only the first step in the preparation process. Once you've got an interview set up, it's time to do your research on the position and company and develop some questions to ask. Equally important, is figuring out what you should wear. Your interview outfit should impress, so review the following do's and don'ts to help ensure a great first impression.
Keep to colors that are classic. You want to look nice, not cause a scene. Wear an outfit with muted colors to show you're a professional and not distract from the overall interview. Think in neutral tones like tan, navy and black. Colors can be incorporated, but always as a pop instead of the primary focus.
DON'T wear a dress or shirt with a loud, bright print. Dramatic colors can be distracting and give the interviewer the wrong impression.
Layer thoughtfully. A blazer or suit jacket can help you achieve a professional look, as long as you've thought through the other elements of your ensemble. You want your look to be polished all the way through, layer by layer.
DON'T put a blazer over a T-shirt, wrinkled dress shirt or low camisole. These looks might work in some environments, but a job interview isn't one of them.
Pay attention to the season. Nothing says you only have one interview outfit than showing up in the middle of summer wearing a full suit and sweater combination. Many companies slip into a business casual mode during the summer, so a lighter weight outfit, may be an option.
DON'T show up in shorts, short dresses/skirts or flip flops. Even if the dress code is somewhat relaxed, certain items have no place in an office environment.
Stay up-to-date with trends. A lot of professional fashion remains classic, but certain trends can date you. Always look for simple items that aren't trendy so you'll be ready for an interview whenever it happens.
DON'T go to an interview wearing monstrous shoulder pads or outdated pinstripes. Simple and classic is always the way to go.
Get to the interview faster with Zing. For over 25 years, we've been bringing together great employees and employers throughout the country. Let us help you find your perfect fit! Register online with Zing Professional Recruiting today.