How to Tell Your Boss You Made a Mistake
January 20 2020 Posted by

Zing Professional

in Blog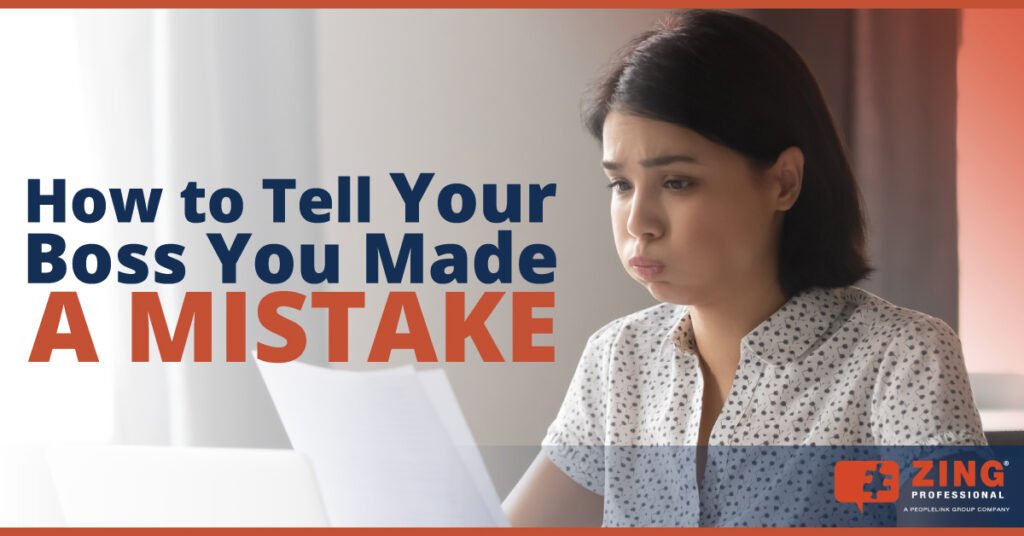 We all make mistakes. Some mistakes are minor and easily corrected. You may be annoyed with yourself, but you can quickly remedy the situation. What should you do when the mistake is more difficult to straighten out? Plans and thoughts are running wildly through your head, but before you take action, pause and prepare. Once you're ready, here are some tips for how to tell your boss you made a mistake.
Figure out exactly what went wrong
In some situations, the root of the mistake is straightforward, like accidentally sending a sensitive internal email to a client. Other situations involve multiple errors compounded into one tangled mess. Before you can think about solutions or talk to your boss, you must be able to articulate exactly what happened.
Decide the impact
In order to clearly advise your manager of the magnitude of the mistake, determine not only what happened, but the impact of the mistake now and in the future.
Consider solutions
Always approach your manager with possible solutions. Your boss will want to see that you have a thoughtful plan for correcting mistakes rather than simply expressing regret and apologizing. Be a part of the solution.
Talk to your boss
Once you can explain what happened, the impact and potential solutions, it's time to talk to your boss. This should be soon after the mistake is discovered; you want to be prepared but you don't want to wait a full day to advise your manager.
Be accountable and accept consequences
Accept the consequences of your actions. Whatever your manager deems appropriate ramifications, be prepared to take responsibility and accept the outcome.
Flexible staffing solutions for you
If you're looking for a flexible schedule, Zing Professional has the jobs for you. Whether you're looking for a professional or administrative position, we have the temporary, temporary to hire, and direct hire opportunities to meet your needs. Contact us today to get started!